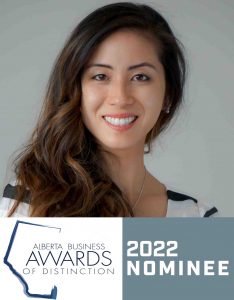 Congratulations to our founder, Jennifer Lam, for making finalist on Alberta Chamber of Commerce Woman Entrepreneur Award of Distinction to recognize female entrepreneurs for outstanding achievement in business and who is a positive role model within their community.
Discover Coding inspires and guides kids to create with technology, rather than just consuming it. They strive to set kids up with 21st century skills to be leaders in the digital world. They run after-school coding programs to camps to teach kids to code Minecraft mods, design websites, design games in Roblox to creating YouTube videos.
Additionally, she has led her to team to bring free coding programs to schools in Alberta and across Canada through partnerships with Callysto, Pacific Institute for Mathematical Sciences and Federal CanCode program.
To date Discover Coding has taught 1500+ students through free coding programs; equipped 65+ teachers with resources to support their students digital skills; empowered 500+ girls with a  head-start in STEM education. These national programs were not only reliably delivered throughout 73 classes in nearly 30 schools but also showed a meaningful impact, with many of our students reporting increased interest in STEM. Her goal is to reach more rural and Indigenous schools throughout Alberta and British Columbia within the next 2 years.
"Program was amazing! All the instructors we had were great! My kids enjoyed it and looked forward to it each week. I also liked that it was do-able for all my kids, but also challenging. It was a great way for them to stretch their brains about coding in a fun, interactive way! I would recommend Discover Coding to any teacher. My students fell in love with it! Such an amazing opportunity to engage kids with computer science, coding, and technology – especially as these areas become more prominent in our society and education. My kids learned a lot and are inspired to continue that learning!" – Hailey Foley, Grade 4 teacher at Kensington School, June 2022
We are so proud of Jennifer's leadership, innovation, growth and sustainability to help nurture kids interests in code and technology.
Check out the Alberta Business Awards of Distinction event 2022, with the Alberta Chamber of Commerce, for results. And help us cheer her on!