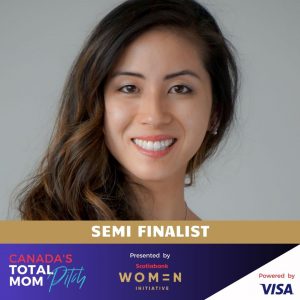 Discover Coding was proud to receive the Voters Choice award in the Total Mom Show Canada's Total Mom Pitch finale earlier this year!

Awarded on April 19, 2021, to the top 10 companies with popular votes, this honour comes a few months after Discover Coding was named to the top 100 finalists — out of more than 730 applicants across Canada.
"We truly could not have done this without the support from our community," said Jennifer Lam, founder and CEO of Discover Coding. "This motivates us to continue bringing fun and engaging learning programs so kids can feel empowered to be curious, create and solve problems with code and technology!"
The Total Mom Pitch, presented by Scotiabank Women Initiative and powered by Visa, supports a community of Canadian women and moms who are achieving their entrepreneurial goals!
Discover Coding was also nominated for three recognition awards: Reach Beyond, Zensurance Digital Innovation and EDC Export Rising Star!
Read more about what being a semi-finalist in the Total Mom Pitch means to us.
Thank you for supporting STEM education and small, local businesses in Edmonton during these uncertain times. We look forward to connecting with the community in our upcoming summer programs!