In 2019, only 28% of students enrolled in STEM programs across Canada were women. Yet research shows that at around age 12, both girls and boys have a similar level of interest in computer science. The key difference is that women are half as likely to be encouraged to explore it. Because of this, it is even more important to create a welcoming environment for girls to thrive in coding and their tech journey. And it's essential to have women leaders in tech to contribute and diversify these influences.  
"We are baking bias into the system by not having women have a seat at the table." – Melinda Gates, computer scientist, philanthropist and former general manager at Microsoft
Let's celebrate International Women's Day by highlighting key women who have paved the way for the next generation of girls in STEM.
Key female computer scientists: Past and present
Beatrice Worsley
Beatrice Worsley was the first female computer scientist in Canada and the first woman in the world to receive a doctorate in computer science. Worsley went on to write the first program for an early British computer in 1949. One of her most renowned Canadian contributions was her code for the University of Toronto's Ferranti Mark 1 – one of the world's first commercial, digital computers. She opened the door and made coding for girls in Canada a reality.
Joy Buolamwini
Joy Buolamwini is an Edmonton-born, American computer scientist and digital activist. In 2020, Forbes named her one of the eight leading women in the artificial intelligence (AI) field. She conducted research on an algorithm that detects racial and gender bias in facial recognition. Buolamwini's software highlights the fact that there is a need for the AI field to diversify in terms of gender and race. Amazon, Microsoft and IBM have suspended their facial recognition software to make improvements because of her research.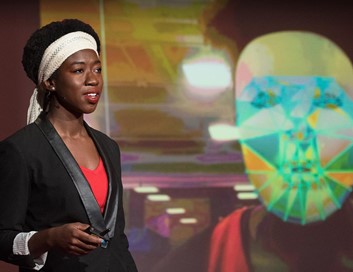 More 21st century role models
"Thirteen-year-old girls can easily become interested in computers and technology as long as they're given the opportunity." – Lyndsey Scott, software developer and model

 

"My goal is to show women and girls how they can turn their passion into a career, leveraging technology as the tool to allow them to do it." – Allison Faris, Microsoft developer and 2019 Miss D.C.

 

"It is important to have women on the gaming side. It's about creating worlds that we all want to escape into, and I think it's about creating diverse characters and interesting storylines." – Bonnie Ross, video game developer and head of Halo
Coding for girls at Discover Coding
"When I was a teen in the '90s, I thought I was alone, as a female, in thinking science was really cool," says Jennifer Lam, founder and CEO of Discover Coding. Now she is empowering girls to be leaders in tech with Discover Coding, where your girls can explore their possibilities and passions through kids' Python, coding in Scratch, STEM camps, creating websites, graphic design or Minecraft coding.
Keep an eye out for our all-girl code camps this summer! "We need more programs like this to show young girls that STEM is amazingly cool and they can do incredible things with it."
Our spring programs, including spring break camps, PD day camps and three-month programs, are open for enrollment!