So your kid can't stop talking about or playing Minecraft. The game has captivated the minds of kids across the world. But why does it have such a hold on these young minds? Here is a breakdown of everything Minecraft and the educational benefits that come with it!
What is Minecraft?
Minecraft is an online video game that allows kids to create and collaborate in their own virtual world. In the 3D sandbox game, kids use blocks to build anything they put their minds to, just like playing with Lego. Kids activate their creativity to build a world for themselves and experience it by playing in it and sharing it with other players.
Minecraft includes five game modes, with the two main modes being survival and creative.
Survival Mode
In survival mode, players face challenges to survive in the world of monsters. Kids must mine and craft real-world resources like wood to build shelters and coal to cook. Faced with hypothetical yet realistic obstacles, kids problem-solve their way to survival.
Creative Mode
In creative mode, kids create their world with an infinite supply of blocks and resources. This mode promotes creative building and gives kids access to super tools like elytra, which is used to fly. Fulfilling their imagination, kids can recreate the Eiffel Tower or design their own space-themed village.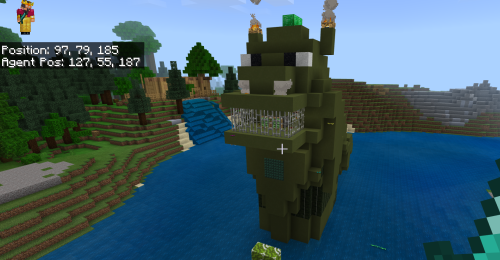 Minecraft combines the building simplicity of Lego with the creativity of cardboard boxes – James Helberg, lead instructor at Discover Coding
What are some educational benefits of Minecraft?
Creativity
Minecraft is the ultimate opportunity to build your kid's artistic and creativity skills. Kids can build a village with their unlimited supply of blocks in creative mode or devise plans on ways to preserve their lifeline and win challenges in survival mode. From building their own amusement parks to recreating their favourite fictional settings like Hogwarts School, the possibilities are limitless.
Coding
Once your kids gets more comfortable with Minecraft, they can utilize it as an online coding program. When using Minecraft for coding, usually in Minecraft Education, users can modify the game with Python, Javascript or block programming to make it rain turtles, build an underwater park or create a large skyscraper instantly.
STEM
Kids design and build engineering structures without knowing they are engaging in an educational STEM program. This helps kids understand structures and problem solve. For example, kids build and test bridges to connect sky islands. Through this, kids realize their bridges need to be wide and have supports to be functional and transport their friends from island to island.
Organization
To make their ideas come to life, kids need to plan the materials they need for their build. Take building a treehouse for example. Kids need to gather resources like wood, ladders, and glass to build their foundation, entrance, rooms, and accessories. At Discover Coding, kids organize their ideas, blueprint their plans, delegate tasks within their teams and build together.  
Communication
Minecraft offers a virtual environment where kids can collaborate, socialize, play games, and share codes. This helps kids improve their communication skills and learn how to be a good team player while working together. Plus, kids can hop on a specific server to interact with their friends from school in a fun and safe space!
Minecraft at Discover Coding
Now that you know what Minecraft is and the educational benefits it has for your child, you are probably wondering how you can support their Minecraft craze. Try placing them in a Minecraft camp!
In our Minecraft programs, we emphasize the game's educational components by giving kids opportunities to create, think critically, brainstorm ideas, and collaborate with their peers through their builds.
Here is a list of our Minecraft camps:
Minecraft Camp

Minecraft Code Camp

Minecraft Redstone

YouTube Minecraft Camp
We also host online or in-person Minecraft birthday parties!
Explore our Minecraft camps and enroll your kid today!