DC Academy is a safe, structured, technology-enhanced learning environment for supervised online learning and hands-on STEM projects. Here's what that means for your child and their education.
Supervised online learning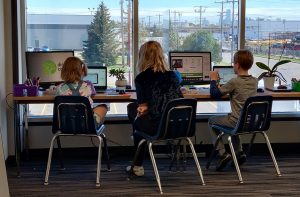 Students' online classes that their schools assign is a main focus, which is why we start each morning with work time. We've found that students are getting all of their work done in that time frame the teachers give them. It's a safe and welcoming environment that sets the tone for learning.
Our experienced, qualified and passionate teachers, who know the Alberta curriculum, are always present and ready to provide students with immediate feedback on their work. If a student is struggling with a topic, we can catch it while they are still learning it in class, rather than waiting for their homework or quizzes to be returned. Then the teacher will then sit down with the student and give them additional instruction.
Break stations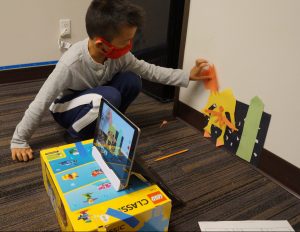 Students do their online learning and then they have fun creating things at our various break stations in the afternoon — and that's when they really like learning. They get the opportunity to learn through play and do things with their hands at stations like our DC Academy makerspace, 3D printing, stop-motion animation, typing, library, LEGO lab and fitness and movement stations.
When students see things in front of them and they get to feel and touch, it helps them understand and retain information. We do science experiments together to help reinforce what students are learning in school. It's a lot more engaging to learn and experiment with other people around and we share our observations, which also helps students retain the information.
Weekly STEM themes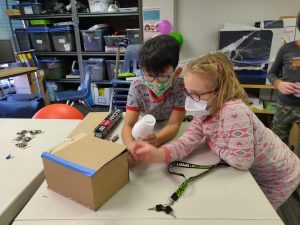 Each week, we have a new STEM theme that is tied to the outcomes that students are exploring in their online learning. Students work toward a project based on that week's theme, where they meet daily goals.
One of our recent themes was an escape room. Students programmed micro:bits to send out morse code to each other, as well as put together a Makey Makey to create a button-trigger remote to trigger some code. At the end of the week, we had in-class escape room that put these problem-solving skills to the test as students worked together to try and escape the room. Students get that vital socialization aspect of school in a controlled environment, due in part to our small class sizes.
Health and safety protocols
The health and safety of our students, instructors and their families is our top priority, which is why we have specific health and safety guidelines and measures in place that follow Alberta government guidance. Air purifiers, sanitization fog machines, strict sanitization protocols and constant handwashing are just some of the measures in place. With everything going on, we want to make sure the students feel happy and safe, have fun learning and are excited to be here.
---
DC Academy follows the quarterly enrolment schedule, so you can choose the quarters that work for your family — and we are still accepting registrations.
Ready for your child to join us at DC Academy? Register now!
Want to learn more or have questions? We're happy to chat with you! Send us an email at [email protected] or give us a call at 1-833-588-CODE (2633).
Watch our DC Academy video for a behind-the-scenes look at all the fun!