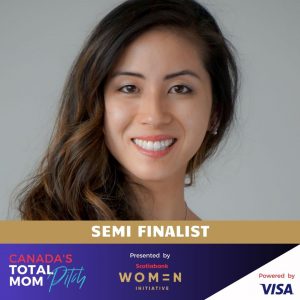 We're excited to be a semi-finalist in the Total Mom Show Canada's Total Mom Pitch, selected from more than 730 applicants across the nation.
The program supports a community of Canadian women and moms who are achieving their entrepreneurial goals.
"It's an honour to be recognized among so many female movers and shakers with such drive and passion to grow their businesses while raising their families," says Discover Coding Founder and CEO Jennifer Lam.
The mom of two boys is a computer scientist, software developer and educator who put her career on hold to raise her children, which inspired her to pursue an education degree. It was then she discovered a way to combine her passions and began to explore teaching coding and technology to young children.
"As we all know, children are drawn to phones, tablets and computers, all of which can become magical distracting devices," says Lam. "I wanted to embrace a child's natural curiosity for technology and turn it into a tool to express their creativity and solve problems."
Lam recognized the lack of technology education available for young children in Canada, with some provinces such as Alberta not even having it as part of the primary school curriculum. She founded Discover Coding to bring coding and technology classes to the next generation of children to empower them to be creators, and not just consumers, of technology.
Three years after teaching our first class in a church basement, we now offer more than 30 summer camps and more than 100 after-school classes in more than 30 Edmonton-area schools. In partnership with Callysto and the Pacific Institute for the Mathematical Sciences, we have taught more than 3,000 kids in rural Alberta and communities across Canada how to code.
As a top 100 finalist, we have a chance to win $30,000 in cash and business services, as well as get access to grants, funding, mentorship and other resources. This would enable us to invest in more fun and engaging programs and increase the number of children who get the opportunity to create with technology.
"We will be able to expand into more schools and more cities to share the superpower skill of coding," says Lam.
We need your help! Please consider voting for Discover Coding in the pitch competition. The process is simple:
Go to totalmompitch.thetotalmomshow.ca and register an account.

Type "Discover Coding" in the search list bar.

Click the "❤️Vote" button to vote. You can vote once per day until Dec. 2.
That's it! Every vote and every share make a difference and are greatly appreciated.
Thank you for supporting STEM education and local, small businesses during these uncertain times.