Looking for a way for your child to practice their coding at home? Here are five amazing activity books that your child can use to learn computer programming at home without using a screen or a fancy program.
Ages: 7-12
Price: $4.56
Book description:
You might not realize it, but coding is everywhere–not just in our computers and phones. The video games you play, the animated films you watch, and the digital stopwatch you use–they're all powered with code!
This action-packed book with a two-color interior is full of word games, mazes, quizzes, and more–it's your key to understanding how coding is used in robotics, arts & animation, sports, music & performance, and for social causes. You might even find inspiration for your next coding project!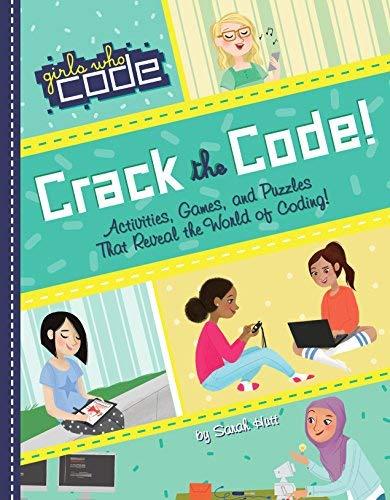 Ages: 5-7
Price: $20.78
Book description:                      
Teach young children the basic programming skills and concepts necessary to code, including sequencing and loops, without a computer.
It's never too early to learn computer coding! With innovative, interactive paper engineering, My First Coding Book is a playful, hands-on introduction to offline coding and programming that will give children ages 5 to 7 a head start. Filled with puzzles, mazes, and games to teach the basic concepts of sequences, algorithms, and debugging, this book will help children develop critical thinking, logic, and other skills to cement lifelong computer literacy.
With its unique approach and colorful and creative imagery, My First Coding Book makes learning and fun one and the same and will have children playing their way to programming proficiency.
Supporting STEM and STEAM education initiatives, computer coding teaches kids how to think creatively, work collaboratively, and reason systematically, and is quickly becoming a necessary and sought-after skill. DK's computer coding for kids books are full of fun exercises with step-by-step guidance, making them the perfect introductory tools for building vital skills in computer programming.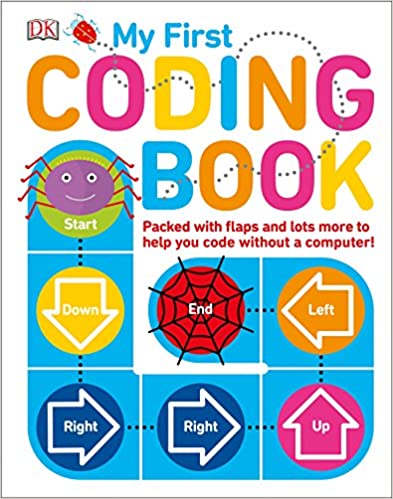 Ages: 6+
Price: $8.99
Book description:
Every child needs a strong background in STEM (Science, Technology, Engineering, Math). Here is a full color activity book that teaches youngsters the science of coding.
Coding is one of the most important STEM subjects in the modern world. Now children can discover more at home by reading the simple explanations and doing the beautifully illustrated activities on each page of this colorful, fun activity book.
Let your kids experience the fun digital universe of coding and give them a lifelong passion for STEM subjects.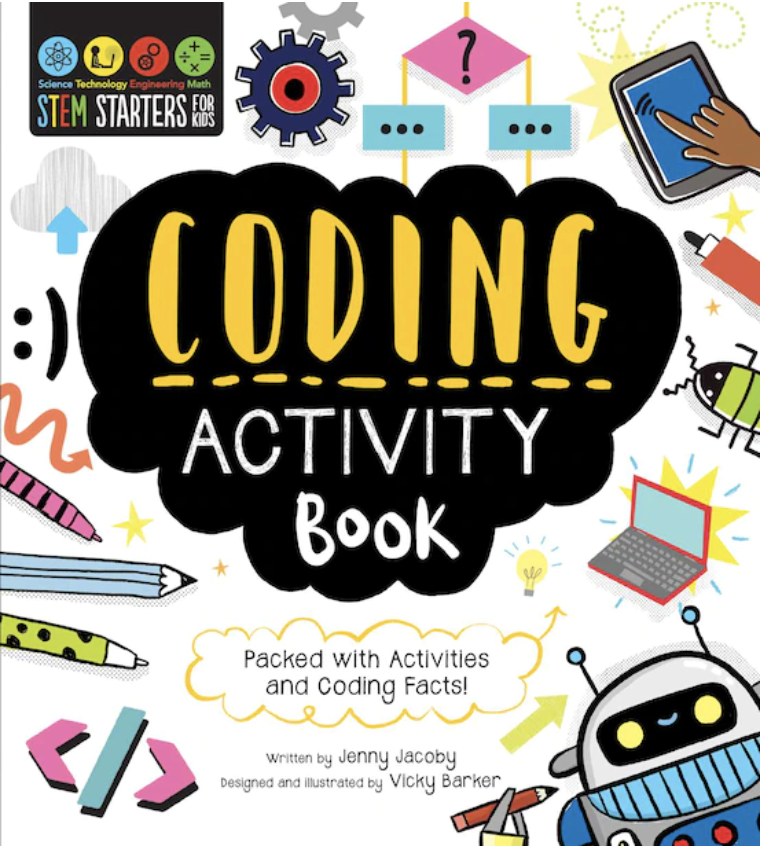 Ages: 5-8
Price: $18.95
Book description:
Each double-page spread has a stunning colour illustration, and several flaps to lift to find out more about what's going on in the scene – such as what goes on inside a computer, how programmes organise and sends information around and many many other facts. Learn about the history and gain an understanding of how computers work.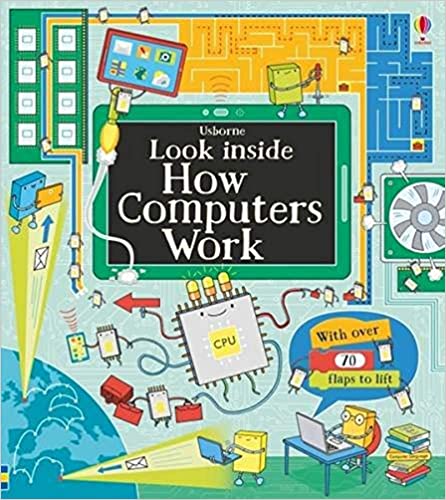 Ages: 4-7
Price: $15.70
Book description:
Get the perfect book to introduce young kids to the world of coding. An exciting fun-filled book to give them the perfect start. With this fun illustrated coding workbook, kids will get a head start at coding & become future experts in the STEM fields. Easy-to-understand tutorials in "First Coding Book For Kids by Kidlo" help create a strong foundation of offline coding. That's right – no computer required!
With this book, curious little minds can learn the basics of coding from scratch & get acquainted with sequencing easily. They can take the first steps towards development of creative thinking, problem-solving & analytical skills with this visual guide! Colorful illustrations make the coding games very exciting to solve. If you are unable to solve a level, no worries! The solutions given at the back will help you out. After solving this book, your kids will be ready to take on languages like Scratch and Swift. The "First Coding Book For Kids by Kidlo" can be useful to understand essential coding concepts and give a playful introduction to programming. So boys and girls, go ahead & begin your coding journey! It won't be long before your baby says I love coding.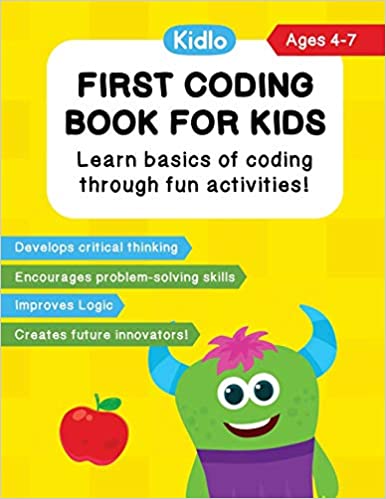 Want to advance your child's coding knowledge? We are proud to teach students essential digital skills with our online and in-person programs. Read more about our programs today!