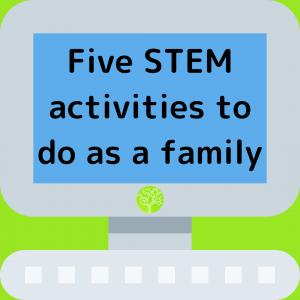 Family Day is a great opportunity to take a break from your busy life and spend time with your family. Between science, technology, engineering and math, there's no shortage of fun and educational activities that the whole family will love. Here's a list of five family-friendly STEM activities you can do at home:
1. Lift ice cubes with chemistry
If you want to learn about how water and salt interact, all you need is some glasses, water, ice cubes, yarn, salt and a timer! This 20-minute activity will answer all your questions about why we use salt to remove the ice from our roads.
Move over, slime. Soap soufflé is the new thing to make! Grab a bar of Ivory soap and heat it in the microwave. In just a matter of minutes, you'll have a soap soufflé with a unique texture. Be careful, it will be hot.
Grab some Lego and start thinking like a programmer. Just print and cut out the instruction pieces to start making your maze with Lego. Best of all, this activity has different levels appropriate for programmers of all abilities!
4. Create a cup stacking algorithm
You can create an algorithm with just a stack of cups. By tracking the steps it takes to build a cup stacking design, you have an algorithm. This activity is great for understanding how a computer follows instructions to perform tasks.
5. Try these engineering challenges
See how you can use craft sticks, plastic cups and wooden cubes to build crazy structures. These four engineering challenges will test your creativity and design abilities. Who can build the tallest structure? There's only one way to find out!
We hope you have fun trying these awesome activities. Happy Family Day from Discover Coding!