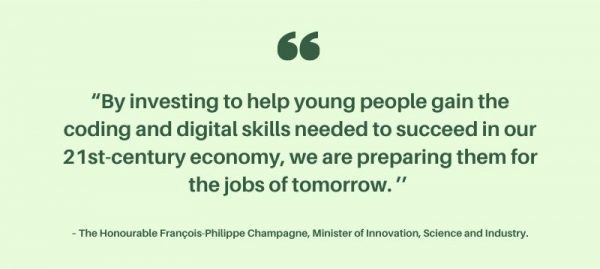 Want to inspire more Canadian youth to create with code and technology? Canada just announced the third phase of the CanCode Program, which includes an $80-million investment to help students and teachers gain coding and digital skills. The CanCode program has set out to equip the next generation of Canadian workers with 21st century skills in science, technology, engineering, and math (STEM) so that today's youth will be empowered to take on challenges and compete in tomorrow's digital economy. 
Canada needs a workforce savvy in science, technology, engineering, and math (STEM), capable of taking on challenges to compete in the digital economy. That's why, to prepare the next generation of Canadian workers, the Government of Canada is seeking applications for projects that will provide students from kindergarten to grade 12 with the opportunity to learn the in-demand digital skills that will prepare them for future jobs. The program also aims to provide 120,000 teachers with training opportunities so they can incorporate new digital skills and technologies into their classrooms.  
The effort is designed to complement educational curricula, promote interest in and awareness of coding, and encourage digital skills more broadly. By reaching out to young people inside and outside the school environment and providing coding and digital skills training in community settings, CanCode seeks to accommodate different learning styles, stimulate and sustain interest in STEM fields, and appeal to a wide diversity of young people in a variety of ways. CanCode focuses on the inclusion of under-represented groups, including girls, Indigenous youth, Black youth, youth with disabilities, and youth living in rural, remote, and Northern communities. The long-term goal is to make Canada a leading innovation economy with a diverse and inclusive workforce.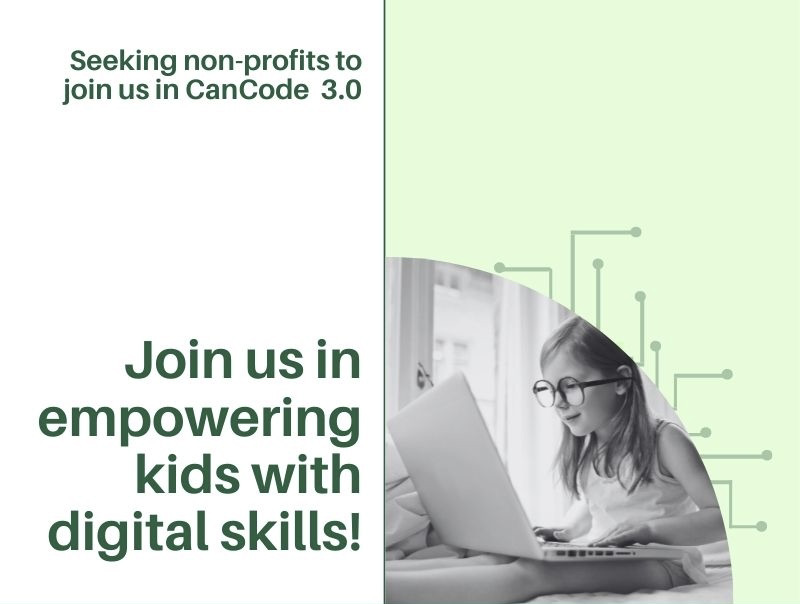 Discover Coding hopes to be a part of the CanCode 3.0 initiative, empowering more kids and youth across Canada with digital skills. We approach our lessons with sound educational methodologies and direct experience with the technology industry so we can guide and inspire students to create with code and technology. Our team is experienced, passionate and has a strong track record of bringing excitement for coding into the classroom online and in-person. We have been taking self-initiative to educate and excite kids about the superpower of technology since 2017, volunteering to teach over 2 100 students over the past 4 years.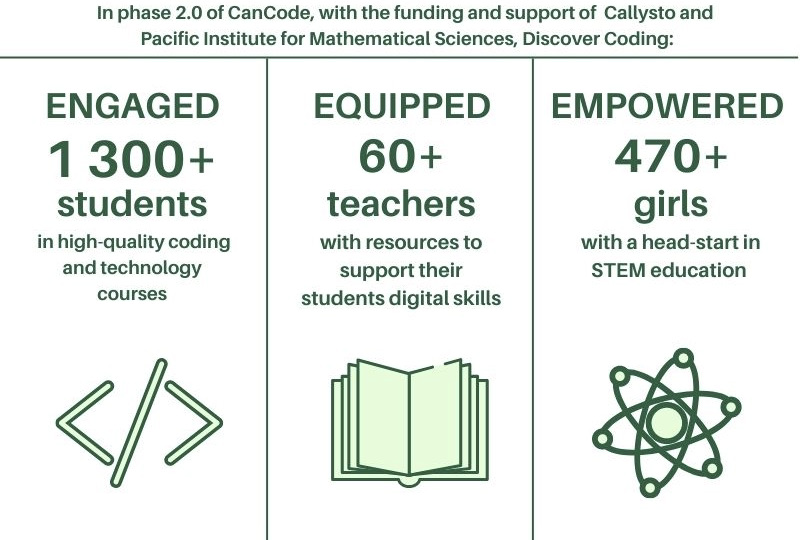 In 2019, Discover Coding had the pleasure of delivering high-quality teaching and resources to 1 300+ students and 60+ teachers across Alberta and Canada. This project, which was funded and supported by Callysto and Pacific Institute for Mathematical Sciences, empowered 478 girls, 108 Indigenous youth, 59 youth with disabilities and 625 youth in rural remote and northern communities. Our national programs were not only reliably delivered throughout 73 classes in nearly 30 schools but also showed a meaningful impact, with many of our students reporting increased interest in STEM. 
Many parents and teachers gave raving reviews regarding our programs, such as one homeschool teacher who stated that Discover Coding's course "was a tremendous benefit to our homeschool. Problem solving confidence was greatly increased as a result of this course. This also gave confidence for our son to take risks outside of his comfort zone. Creativity has been at an all-time high, and he intends to pursue a career in this field. We couldn't speak high enough about this course" 
We are so honoured to have been a part of the CanCode mission in the past and are looking forward to getting involved once again! If your not-for-profit organization is interested in partnering with us in the CanCode 3.0 phase, please contact us below or at [email protected].